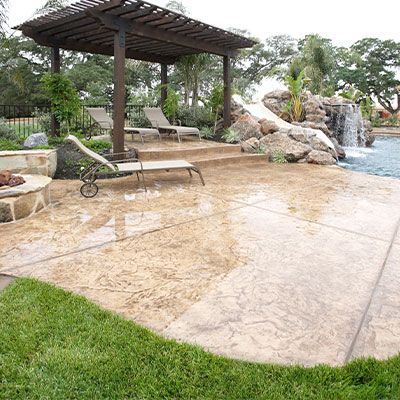 Our Services
At Alamode Concrete, your decorative concrete & pool company, we offer a range of services that allow us to create your perfect outdoor space. Whether you're interested in custom concrete work to set your yard apart or the installation of a new custom pool, we are the team for the job.
Decorative concrete installation

Decorative concrete renovation

Pool building

Pool repair
Decorative Concrete Installation & Renovation
Decorative concrete is an easy and effective way to update the look of your patio, driveway, or walkway. At Alamode Concrete, we offer decorative concrete installation services, as well as renovations if you have an area of your yard that has damaged or aging concrete. When you work with us, we'll take the time to get to understand your needs and goals, so that we can turn your yard into your oasis.
Types of Decorative Concrete Design
Concrete doesn't have to be boring. It's one of the easiest ways to bring the wow factor to your outdoor space. When you work with Alamode Concrete, we often use the following types of decorative concrete:
Stamped Concrete
Stamped concrete allows us to get the high-end look of stone or brick pavement by imprinting patterns in newly poured concrete.
Colored Concrete
Our colored concrete option allows you to match other parts of your home, or choose complementary colors to create a comprehensive landscape.
Exposed Aggregate
This type of decorative concrete imitates the look of loose gravel and provides a slip-resistant outdoor flooring option.
Broom Finishes
Broom finishes add a rustic element to concrete and also provide the extra benefit of providing a slip-resistant surface.
Float and Trowel Finishes
If you're looking to add swirls, arcs, and other patterns, float and trowel finishes are ideal.
Sanded Finishes
A sanded finish creates a rugged exterior on your concrete and provides a slip-resistant surface, while being less rough than exposed aggregate.
Custom Pool Building and Repair Services
At Alamode Concrete, we are Ottawa's trusted pool building company. We can create a beautiful pool for your backyard based on your vision. Whether you have a large or small backyard, we can create a custom pool to fit your needs and budget. Custom pools are great for creating a relaxing oasis or an area that is perfect for entertaining friends and family. When you work with Alamode Concrete for your pool installation needs, we'll ensure that we design a pool that will fit your needs and goals perfectly.
As your decorative concrete & pool company, we understand that everyone's needs are different, which is why we tailor our services depending on your unique situation. Whether you have an existing pool that needs repair or are interested in designing a custom pool for your outdoor space, we are the team to call.
Request a Quote
Are you interested in our decorative concrete or pool building services? Reach out to the team at Alamode Concrete today and we'll get started by providing you with a quote for your project.