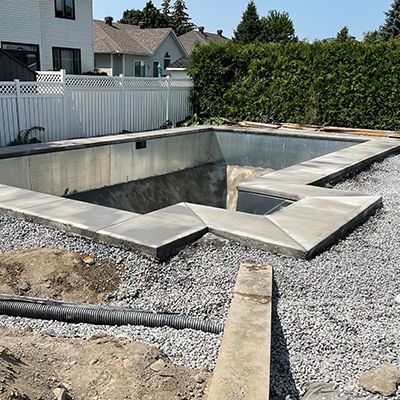 About Alamode CONCRETE
At Alamode Concrete, your decorative concrete & pool company, we pride ourselves on providing the highest quality decorative concrete work and pool installation in Ottawa. With more than 20 years of experience in the concrete and pool building industry, we have built strong relationships by standing out as reliable contractors who deliver excellence from start to finish, which ensures total customer satisfaction every single time!
At Alamode Concrete, we've developed a reputation for excellent customer service, dependability, and attention to detail, ensuring that your project is completed on time and within budget. Our team provides one-on-one service, ensuring that we can turn your vision for your outdoor patio into a reality.
When you choose to work with Alamode Concrete, you can rest assured that you'll receive the absolute best service and an unparalleled customer experience.
Why Choose Alamode Concrete As Your Decorative Concrete & Pool Company?
We are a family-owned and operated business that was established in 2020

We specialize in decorative concrete installation and renovations

We perform custom pool installation and repairs

Our team of skilled professionals has more than 20 years of experience in the pool building and decorative concrete industry

We take great pride in our work, ensuring customer satisfaction on every project

We will work with you to find the perfect solution for your needs and budget
Alamode Concrete is the company you can trust for all your decorative concrete and pool installation needs in Ottawa. Give us a call today!